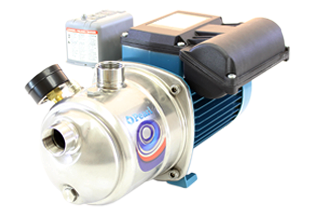 JSC - STAINLESS STEEL SHALLOW WELL SELF PRIMING JET PUMP
An exclusive diffuser design with flow control device provides for compact construction, fast self-priming capability and low noise.

Reliable with new design features the JSC is more robust and forgiving when temporary abnormal operating conditions may exist.

The JSC is smaller than conventional pumps of a similar type, allowing for installation in restricted spaces and providing for easier retrofit applications.

Fast air evacuation reduces the risk of air-pockets developing at the mechanical seal preventing the danger of seal failure due to a lack of flushing and cooling.

The new diffuser and flow control device guide the fluid from the impeller into the central part of the pump casing, reducing turbulence and velocity, with effective use of the surrounding liquid in dampening the noise of flow.

APPLICATIONS


For drawing water out of a well.
For lifting water containing air or other gases.
For increasing water pressure from flooded suction applications.
As pressure boosting pump for central water systems with low pressure (follow local specifi cations if increasing network pressure).
For garden use.
For clean liquids or slightly dirty surface water.
For washing with a jet of water. 
OPERATING CONDITIONS


Liquid temperature: 32 °F to 95 °F.
Ambient temperature up to 104 °F.
Maximum permissible pressure in the pump casing: 116 psi.
Continuous duty.
MATERIALS


Pump Casing: Cr-Ni steel 1.4301 EN 10088 (AISI 304)
Casing Cover: Cr-Ni steel 1.4301 EN 10088 (AISI 304)
Impeller: Brass CW510L (lead free public LAW 111-380)
Wear Ring Impeller-Diffuser: Cr-Ni steel 1.4301 EN 10088 (AISI 304)
Diffuser: PPO-GF20 (Noryl)
Ejector: PPO-GF20 (Noryl)
Shaft: Chrome Steel 1.4104 EN 10088 (AISI 304), Cr-Ni steel 1.4305 EN 10088 (AISI 303) for JSC(H) 15
Mechanical Seal: Carbon - Ceramic - NBR

TECHNICAL DATA:


| | | | | | | | |
| --- | --- | --- | --- | --- | --- | --- | --- |
| MODEL | HP  | VOLT | PHASE | MAX. AMP | SUCT. | DISCH. | WT. LBS |
| JSC 05F16P | 0.5 | 115/230 | 1 | 8.8/4.5 | 1" | 1" | 23 |
| JSC 07F16P | 0.7 | 115/230 | 1 | 10.5/5.4 | 1" | 1" | 26 |
| JSC 10F16P | 1 | 115/230 | 1 | 13.6/7 | 1" | 1" | 26 |