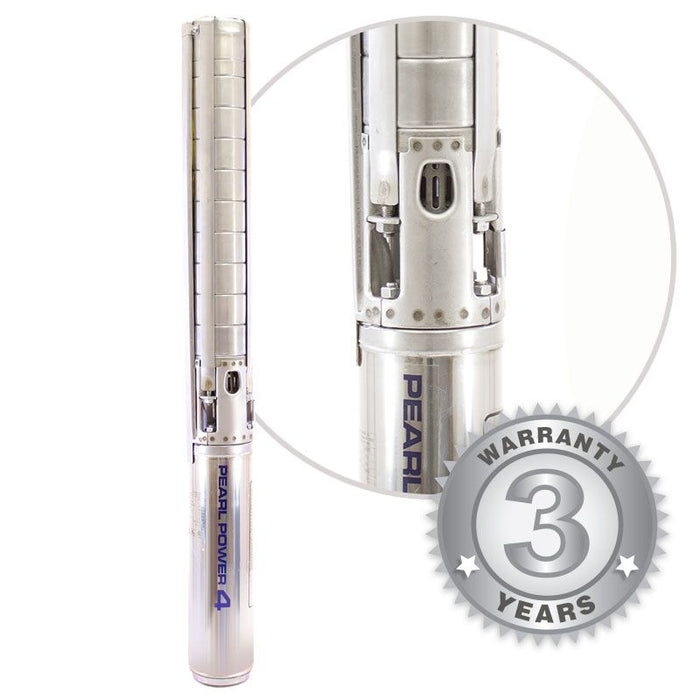 Pearl 4" Submersible Water Pump 25 GPM - All Stainless Steel 4PWS25G - Assembled to a 2 or 3 Wire Motor
The Pearl 4PWS range of submersible water pumps are made of corrosion and abrasion-resistant stainless steel and have been developed in accordance with state-of-the-art technology.

The 4PWS pumps are manufactured to the highest standards for energy efficiency, dependable performance, rugged construction, and long service life.

PERFORMANCE RANGE
Recommended Range from 7.5 - 30 GPM.
Head up to 1180 ft.
APPLICATIONS
Potable water supply from deep wells
Agricultural-Irrigation, livestock watering, etc.
Municipal and Industrial
Pressure boosting
Fountains, etc.


PUMPED LIQUIDS
Clean water and any non -abrasive liquid compatible with the material components.


OPERATING CONDITIONS
Max. ambient temperature (Liquid): 86 F (30 C)


FEATURES
Stainless steel construction designed and built for years of trouble-free operation
All metal parts are made of 304 stainless steel, except for the shaft, which is made of 431 stainless steel
Heavy-duty stainless steel discharge head with built-in check valve for long life and ease of installation
Smooth safety hook
Mounting specifications are according to NEMA standards
High-quality shaft bearings providing low friction and high wear resistance
Heavy-duty stainless steel impellers & diffusers ensuring optimal performance
Stainless steel strainer to restrict the entry of sand and other extraneous material