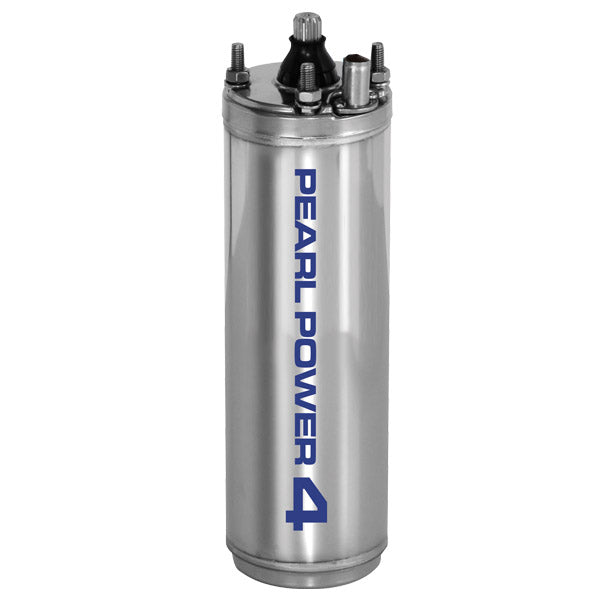 PEARL 4" SUBMERSIBLE WATER MOTOR 1 PHASE WITH 2 AND 3 WIRES - 4MWP
4" SUBMERSIBLE MOTORS
4MWP 2W AND 3 W- Submersible Motors
**PLEASE SEE IMAGE FOR SELECTION**
Four inch, asynchronous, two pole, submersible motor, made in AISI 304 stainless steel for parts in contact with water. Cooling and lubrication of the thrust bearing assembly and carbon brushes is provided by a mixture of water and glycol.  
The Stator housed in an airtight stainless steel casing (canned type) with both flanges and shell in AISI 304L stainless steel.  
Motor suitable for use with variable frequency drive (30Hz - 60Hz). Capacitor and manually resettable overload protection located in the control box that can be supplied separately for the single-phase version. Overload protection must be provided by user for the three-phase version.


FEATURES:
All PEARL motors are provided with a removable cable connector. This solution allows fast assembly/disassembly of the pump end and makes easier maintenance operations.

Kingsbury type thrust bearing unit consisting of tilting pads made of highly-resistant stainless steel and machined using spherical lapping process; this machining guarantees high reliability and high resistance to axial load to this strategic component.

Die cast Aluminum rotor with shaft end made of Stainless Steel AISI 431.

Encapsulated stator with outer casing made of Stainless Steel AISI 304. The stator has 24 slots for better operation and higher efficiency. The winding made of class H double insulated copper wire.