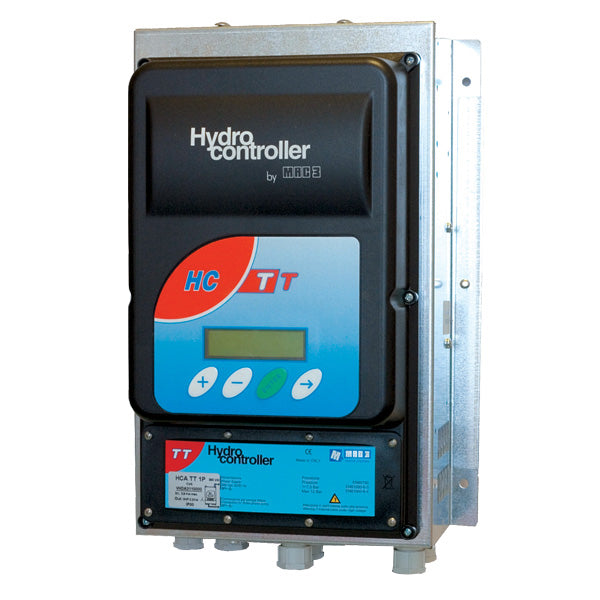 Hydrocontroller MAC3, Air or Water Cooled Advanced
VARIABLE FREQUENCY DRIVE AIR OR WATER COOLED
**Disclaimer: image is for AIR CONTROLLER. **
**PLEASE SEE IMAGES FOR SELECTION **
New generation of variable frequency drives designed for wall mounting cooled by air guarantees the best performance of your controller in a compact installation.
The high quality transducer guarantees the perfect operation of the system.

Controller protection designed for indoor installation.

Three levels of programming (quick, maintenance and advanced) makes basic parameters setting fast and easy however it allows the installer to optimize the system by modifying a wide range of parameters if it is needed.

It keeps constant pressure in your system by changing the motor frequency, therefore it is the perfect solution for building boosting systems with multiple pumps.
AVAILABLE VERSIONS
HCAMT-ADV: Power Supply 230V/1PH - Pump Motor 230V/3PH
HCAMM-ADV: Power Supply 230V/1PH - Pump Motor 230V/1PH
HCATT-ADV: Power Supply 230V/3PH - Pump Motor 230V/3PH
BASIC TYPE OF PROTECTION
 Power supply too low or too high
 Short circuit
 Maximum current absorbed
 Over temperature
 Dry running
 Broken pipe
 Water hammer
 Input for external float switch
 Output relay for additional controllers or alarms
 Able to work up to 8 controllers synchronized
 Pump alternation insure a balanced used of all of  all  pumps  in  the  system
 Damage recognition: if one controller fails, the next  controller  assumes  the  system  control
 Software preset for multiple installations
if you need any help please contact us to   sales@pumpstoponline.com