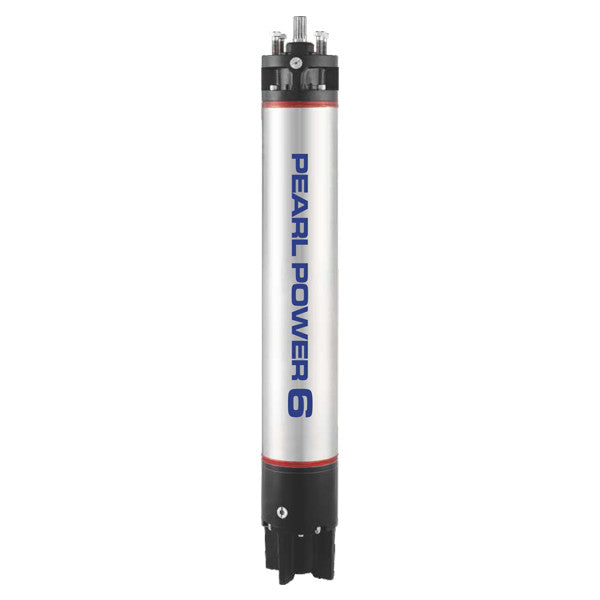 Pearl 6" Submersible Water Pump Motor - 6MWCP
6MWCP - Submersible Motors
**PLEASE SEE IMAGES FOR SELECTION**
Water cooled motors with encapsulated resin filled stator.
Coupling dimensions and flange according to NEMA standard.
GENERAL FEATURES
5,5-60 HP / 3PH. 380-415 Volts / 50Hz
High efficiency provides operation cost savings
Motor casing and shaft made of AISI304L stainless steel (Optional AISI316L)
High resistance coated cast iron upper and lower bracket (Optional AISI304L / AISI316L)
Water lubricated Kingsbury type thrust bearings
Protection IP68
Sand slinger protection
Pressure equalizing diaphragm
Insulation class F
Removable lead cable
Starting method D.O.L. and star/delta
OPERATING LIMITS
Max. voltage fluctuation: ±10%
Max. water temperature: 35 C with at least 0.16 m/s of water flow speed
Max. motor startings per hour: 20
Max. immersion depth: 350 m
 Horizontal operation: 5 HP - 30 HP
Use cooling jacket
Cooling of submersible motors is provided with the flow of the water around it. That why water flow around motors has vital importance during submersible pump installation. This flow rate depends on diameter and power of motor.
Most important factor of submersible motors " long service life is that the motor must have adequate flow for proper cooling.  
If the motor will be installed in an open body of water (i.e pool) or diameter of the well is much bigger than the diameter of the motor, Flow Inducer Sleeve must be used to provide the flow velocities that are given in the table below, around the motor.