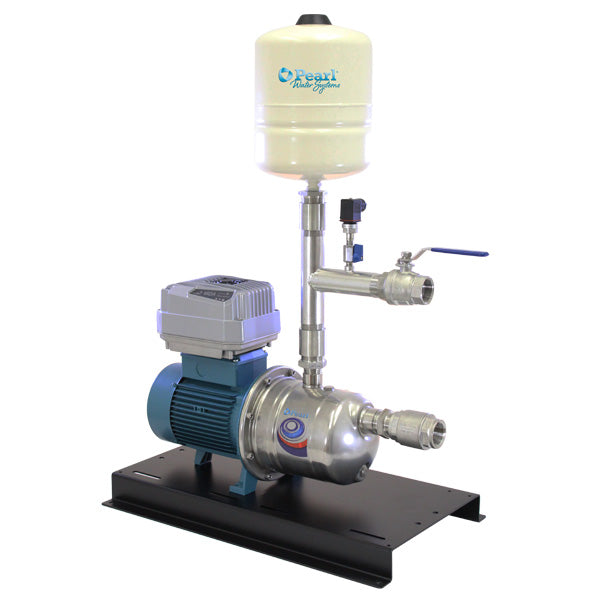 Pearl PDTECH - Constant pressure Pump Systems
PD TECH -    Booster & Irrigation System Pumps
This system has been develop to work in boosting and lifting applications where constant pressure is needed.    
PD TECH brings the latest in technology for water pump control and operation.
Variable Frequency Drives, in addition to maintaining the pressure in the system, bring the best protection to the pumps. By monitoring the pumps " electrical parameters, our controllers can prevent the pumps from working under harmful conditions such as motor  overload, dry running, working with broken pipes, etc.    
FEATURES
Easy Installation and configuration.
Controlled start and stop of operation.
Lower power demand and controlled acceleration.
Remote Bluetooth Programming via App.
Extended Motor Life.
Energy savings allow for a shortened payback period.
THE PUMP
OPERATING CONDITIONS
Liquid temperature: 32 F to 95 F.
Ambient temperature up to 104 F.
Maximum permissible pressure in the  
pump casing: 116 psi.
Continuous duty.


CONSTRUCCION
Horizontal multi-stage, self-priming, close coupled pump.
Single-piece barrel casing in chrome-nickel stainless steel, with front suction port above pumps axis and radial delivery at top.
Stages in Noryl.


VARIABLE FREQUENCY DRIVE
Energy savings due to variable speed control.
Soft start and soft stop.
Complete pump protection with Built-in protections against: Over/Under voltage, Over-current and no load, Dry running, Over-temperature.
Extended system life and reliability.
Installation on humid and dusty environments made  
possible by IP55 (NEMA 4)  
Easy and fast programming thanks to initial  
configuration wizard.
Communication with the VFD via Bluetooth.
Danfus transducer 0-250 PSI, 4 -20 MH


THE TANK
PEARL MNP 5 Gal tank was selected in order to ensure the best performance.