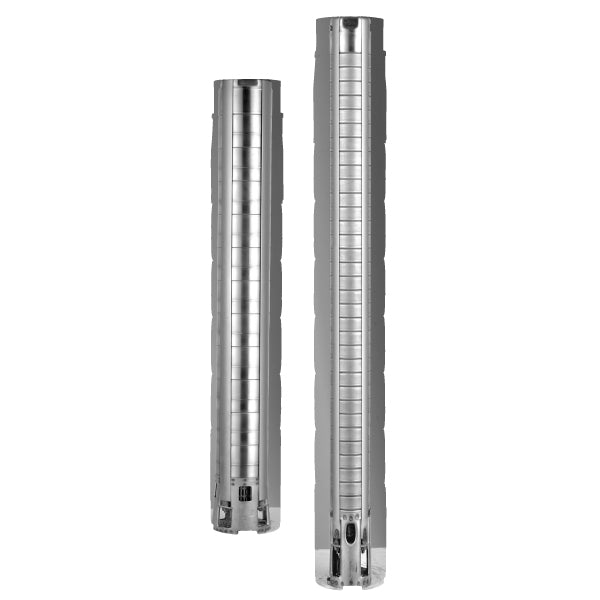 PEARL 10" SUBMERSIBLE WATER 800 GPM - 10PWS800G - STAINLESS STEEL AISI 304 - PUMP END ONLY
Save

30

%
Original price
$10,792.00
10" SUBMERSIBLE PEARL 10PWS800G - STAINLESS STEEL AISI 304 - PUMP END ONLY
**FOR SELECTION PLEASE SEE IMAGES**
The Pearl 10PWS stainless steel submersible pumps are made of high quality 304 or 316  corrosion resistant stainless steel. Shafts are made of high strength 431 stainless steel.  The pumps are designed for efficient and dependable performance, and long and trouble-free  life. The pumps are light in weight and ruggedly constructed for heavy duty applications.
PERFORMANCE RANGE
Recommended range from  400 - 1400 gpm.
Heads up to 1237 ft.
APPLICATIONS
Municipal water supply and distribution
Municipal water treatment
Industrial-for irrigation, etc.
Pressure boosting in high rise buildings, etc.
Dewatering in mines
Fountains, etc.
PUMPED LIQUIDS
Clean water and any non -abrasive liquid compatible with the material components.
OPERATING CONDITIONS
Max. ambient temperature (Liquid): 86 F (30 C)
FEATURES
High pump efficiency means lower energy consumption and thus lower operating costs
Designed and built to operate under difficult conditions
High quality materials and high quality workmanship assure high quality pumps
All metal parts are made of 304 stainless steel, except for the shaft, which are made of 431 stainless steel
431 stainless steel pump shaft assure strength with resistance to mechanical wear and corrosion
High quality shaft bearings providing low friction and high wear resistance
Heavy duty stainless steel discharge head with built-in check valve for long life and ease of installation
A high strength stainless steel coupling facilitates a proper pump/motor alignment
Mounting specifications are according to NEMA standards