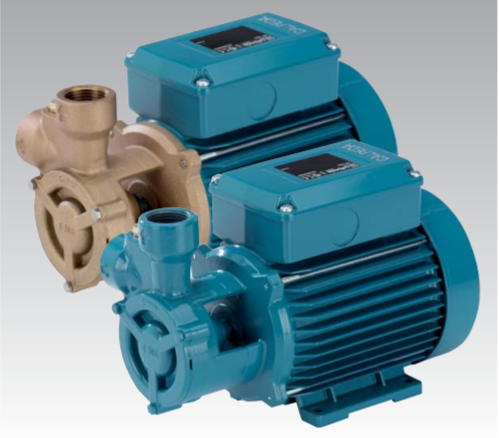 Calpeda BT65 07C17S - BTM 65E V.230/50-220/60 Seal XYXYQKY Impeller 65'
Features
Close-coupled Calpeda T Series peripheral pumps (regenerative pumps) with turbine impeller. Compact, patented construction with single-piece motor casing and pump-side wall. Protected against water entering the motor from outside.
Connections:  threaded ports N  PT.



Calpeda T Series Pump Applications:
For clean liquids without abrasives, without suspended solids, non-explosive, non-aggressive for the pump materials.
For increasing network pressure (follow local specifications).
For the reduced dimensions, these pumps are very well suitable to be mounted in cooling and air-conditioning machines and equipment, circulation, boiler feed.
Calpeda T Series Water Pump Operating Conditions
Liquid temperature from 14 F to 194 F.
Ambient temperature up to 104 C.
Total suction lift up to 23 ft.
Continuous duty.
Calpeda T Series - Motor
2-pole induction motor, 60 Hz (n ‹ " 3450 rpm).
Three-phase 230/460 V.
Single-phase 115 V, 230 V, with thermal protector.
Capacitor inside the terminal box.
Insulation class F.
Protection IP 44.


Special Features On request available for  
Calpeda T Series Pumps
Different voltages.
Special mechanical seal
Higher or lower liquid or ambient temperatures.


Calpeda T Series Pumps Construction Materials
Pump casing: Cast iron GJL 200 EN 1561
Lantern bracket: Cast iron GJL 200 EN 1561
Casin cover: Brass CW510L (lead-free public LAW 111-380)
Cast iron GJL 200 EN 1561 for T76, TP 80
Impeller: Brass CW510L (lead-free public LAW 111-380)
Shaft: Chrome-nickel steel AISI 303 for T 76, Tp 80
Chrome steel AISI 430 for CT, T61-65-70
Mechanical seal: Carbon - Ceramic - NBR