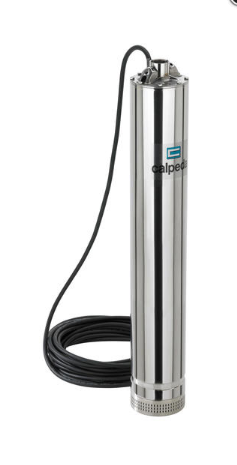 Calpeda MXS 503-60 Multi-Stage Submersible Pump, V.440/60 Hz BT SIC/FPM FPM Casing Joint
Construction
Close coupled multi-stage submersible pumps.
All parts in contact with the fluid both internal and external are in
chrome-nickel stainless steel.
MXSM with built-in capacitor, accessible through the delivery casing.
Hydraulics located below the motor with the motor cooled by the pumped fluid. Safe operation is possible with the motor only partially submerged.
Double shaft seal with oil chamber.
The suction strainer prevents the entrance of solids with diameter bigger than 2 mm.
Applications
For water supply from wells, tanks or reservoirs.
For domestic, civil and industrial applications, for garden use, irrigation
and rain water harvesting systems.
Operating conditions
Water temperature up to 35 C.
Minimum internal diameter of well: 140 mm.
Minimum immersion depth: 100 mm.
Maximum immersion depth: 20 m (with suitable cable length).
Continuous duty.
Motor
2-pole induction motor, 60 Hz (n €°Ë† 3450 rpm).
MXS:  three-phase 440 V.
Cable: H07RN8-F, length 15 m, without plug.
Float switch MXSM.. CG up to 15A (on demand)
Cable: H07RN8-F, length 15 m, with plug CEI-UNEL 47166.
Insulation class F.
Protection IP X8 (for continuous immersion).
Double impregnation humidity-proof dry winding.
Constructed in accordance with EN 60335-2-41.