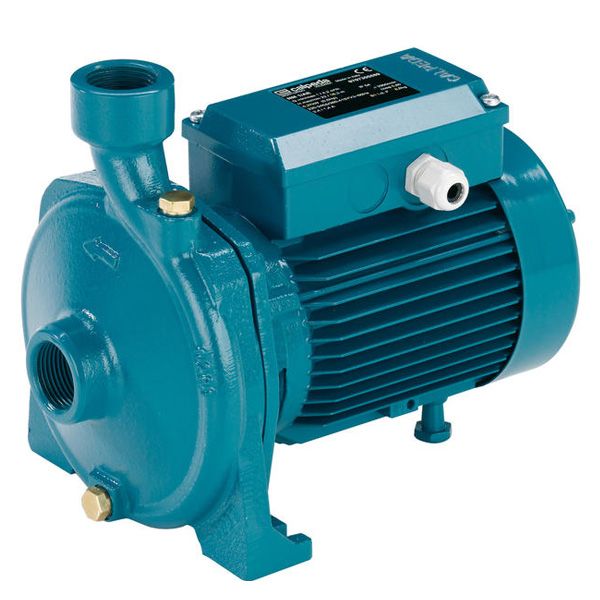 Calpeda NM 3/CE-60 230/380V, 1.5 HP, 3 PH 60 HZ R5H2-X7X7KR7 IMP.C-147 60HZ
Construction
 Close-coupled, centrifugal pumps; electric motor with extended shaft
directly connected to the pump.
NM: single-impeller
NMD: with two back-to-back impellers (with axial thrust balancing).
Connections: threaded ports ISO ˆ228/1.
threaded ports NPT (ANSI/ASME B1.20.1) on request
NM, NMD: version with pump casing and lantern bracket in cast iron.
B-NM, B-NMD: version with pump casing and lantern bracket in bronze.
(the pumps are supplied fully painted).
Applications
- For clean liquids without abrasives, which are, non-aggressive for
the pump materials ( solids content up to 0.2%).
- For water supply.
- For heating, air-conditioning, cooling and circulation plants.
- For civil and industrial applications.
- For fire fighting applications.
- For irrigation.
Operating conditions
Liquid temperature from -10 C to +90 C.
Ambient temperature up to 40 C.
Total suction lift up to 7 m.
Maximum permissible working pressure up to 10 bar
(16 bar for pumps NMD 25/190; NMD 32/210; NMD 40/180).
Continuous duty.
Motor
2-pole induction motor, 60 Hz ( 3450 rpm).
NM, NMD: three-phase 220/380 V, 220/440 V, up to 3 kW;
380/660 V, from 4 to 9,2 kW;
NMM, NMDM: single-phase 110 V, 127 V, 220 V, 110/220 V.
With thermal protector up to 1.1 kW only 220V.
Insulation class F.
Protection IP 54.
Motor suitable for operation with frequency converter from 1,1 kW.
Classification scheme IE3 for three-phase motors from 0,75 kW.
Constructed in accordance with EN 60034-1; EN 60034-30.
EN 60335-1, EN 60335-2-41.
Special features on request
- Other voltages.
- Protection IP Ë 55.
- Special mechanical seal
- Higher or lower liquid or ambient temperatures.
- Motor suitable for operation with frequency converter up to 0,75 kW