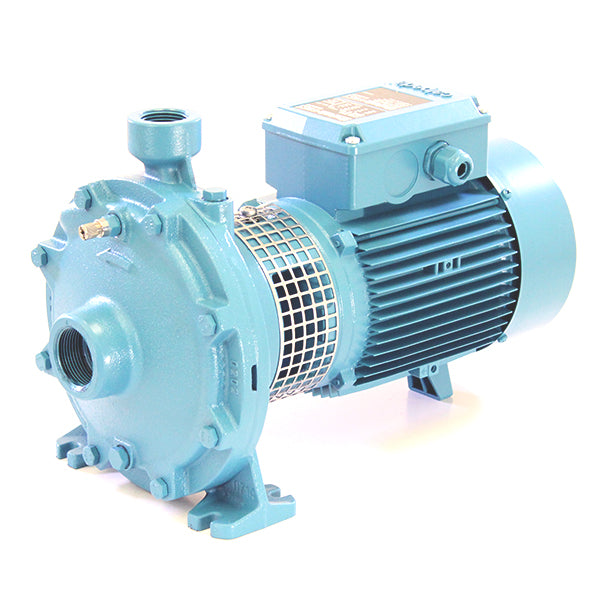 Calpeda NMD20140A 20H36S - NMD 20/140AE-60 Close Coupled Centrifugal Pumps For Special Applications with Mechanical SEAL XYXYRRY
Features
Close-coupled, centrifugal pumps; electric motor with extended shaft directly connected to the pump.
Two back-to-back impellers (with axial thrust balancing).
Connections:  threaded ports NPT.


APPLICATIONS


For clean liquids without abrasives, which are, non-aggressive
For the pump materials ( solids content up to 0.2%).
For water supply.
For heating, air-conditioning, cooling and circulation plants.
For civil and industrial applications.
For irrigation.
OPERATING CONDITIONS
Liquid temperature from 14 F to 194 F.
Ambient temperature up to 104 F.
Total suction lift up to 23 ft.
Maximum permissible working pressure up to 145 psi
(232 psi for pumps NMD).
Continuous duty.
MOTOR
2-pole induction motor, 60 Hz (n ‹ " 3450 rpm).
Three-phase 230/460 V.
Insulation class F.
Protection IP 44.
MATERIALS
Pump casing: Cast iron.
Lantern bracket: GJL 200 EN 1561.
Impeller: Brass CW510L (lead free public LAW 111-380).
Shaft: Cr steel AISI 430.
Cr Ni steel AISI 302 for 1 - 1.5 - 2.5 - 3 HP.
Mechanical seal: Carbon- Ceramic- NBR.
SPECIAL FEATURES ON REQUEST
Other voltages.
Special mechanical seal
Higher or lower liquid or ambient temperatures.