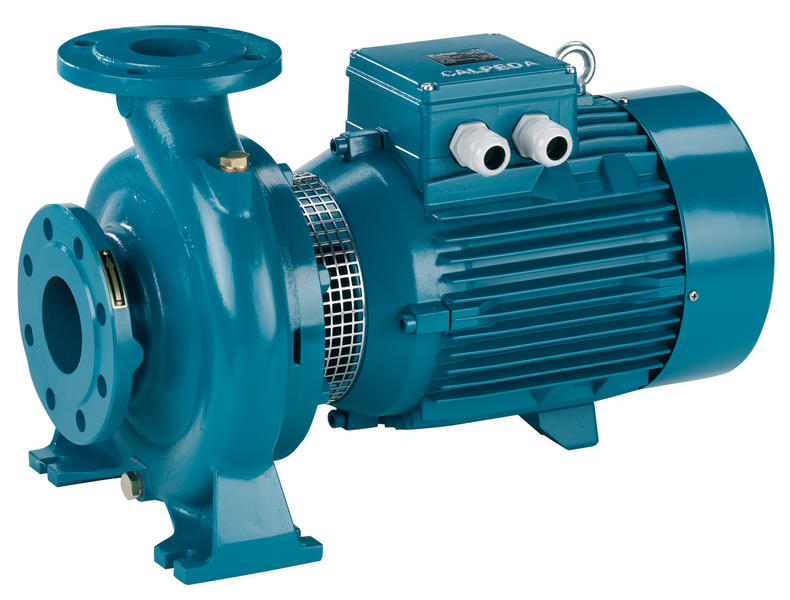 Calpeda NM 32/20C Closed Coupled Centrifugal Pump, Flanged Connections, 277/480V/60 Hz IMP.C-164 60Hz
Features
Close-coupled centrifugal pumps; electric motor with extended shaft directly connected to the pump up to 22 kW, new bracket construction for standard motors (stub-shaft construction) from 30 to 75 kW with integrated thrust bearing.
View product Pump casing with axial suction and radial delivery on top, main dimensions, and performance according to EN 733.
Pump casing and lantern bracket in cast iron.
Calpeda NM 32/20C APPLICATIONS
For clean liquids without abrasives, which are, non-aggressive
For the pump materials ( solids content up to 0.2%).
For water supply.
For heating, air-conditioning, cooling, and circulation plants.
For civil and industrial applications.
For fire fighting applications.    
For irrigation.
Calpeda NM 32/20C
 

OPERATING CONDITIONS
Liquid temperature from -10 C to +90 C.
Ambient temperature up to 40 C. Total suction lifts up to 7 m.
Maximum permissible working pressure up to 16 bar.
Continuous duty.
Calpeda NM 32/20C MOTOR Spedifications
2-pole induction motor, 60 Hz (n ‹ " 3450 rpm).  
Three-phase 220/380 V, 220/440 V, up to 3 kW;380/660 V, from 4 to 75 kW;  
Insulation class F. Protection IP 54 (IP 55 for NMS).  
Motor suitable for operation with a frequency converter from 1,1 kW.  
Classification scheme IE3 for three-phase motors from 0,75 kW. Constructed in accordance with: EN 60034-1; EN 60034-30-1.  
Calpeda NM 32/20C BUILDING MATERIALS
Pump casing: Cast iron.
Lantern bracket: GJL 200 EN 1561.
Impeller: Brass CW510L (lead-free public LAW 111-380).
Shaft: Cr steel AISI 430.
Cr Ni steel AISI 303
Mechanical seal: Carbon- Ceramic- NBR.
Counter-flanges:  Steel Fe 430B UNI 7070
Calpeda NM 32/20C SPECIAL FEATURES ON REQUEST
Other voltages.
Special mechanical seal
Higher or lower liquid or ambient temperatures.