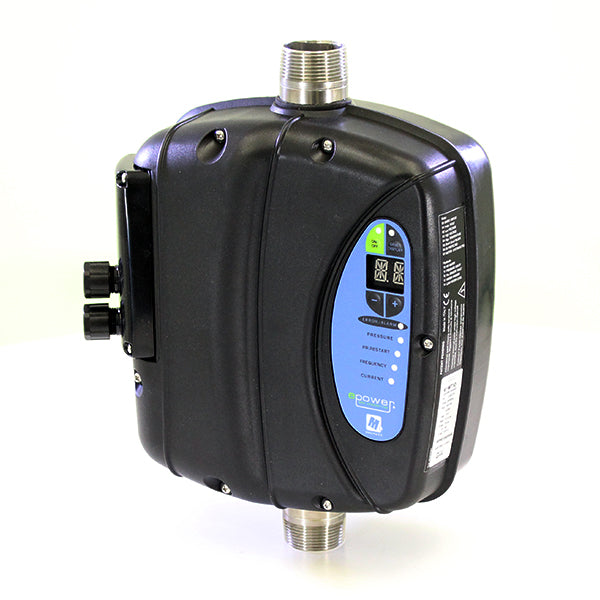 E-Power - Variable Frequency Drive for Water Pumps
Features:

New generation of variable frequency drives inline cooled by water guarantees the best performance of your controller in a compact installation.
The integrated pressure sensor eliminates the need for a pressure transducer.
IP65 Controller protection, comparable to Nema 4 Standards.
It makes basic parameters setting fast and easy however it allows the installer to optimize the system by modifying a wide range of parameters if it is needed.
EPW STANDARD VERSION
When there is a flow variation, E-POWER keeps the pressure in your system always constant by increasing or decreasing the motor frequency.
TECHNICAL SPECIFICATIONS
Max. Pump Amp: - 10 Amp for EPW

Designed to control one pump.

Pressure tank required. Recommended capacity equal to 20% of system flow.

Max. flow: 50gpm.

Max. pressure setting: 108 psi.

Input/Output: 1 ¼  female.

Vertical or horizontal installation.

Outdoor installation.
BASIC TYPE OF PROTECTION
Power supply too low or too high.

Short circuit.

Maximum current absorbed.

Over-temperature.

Dry running.

Broken pipe.

Water hammer.

Input for external float switch.

Output relay for extra signals or alarms.
TO BE SURE OF FIT, SEND US THE SERIAL NUMBER OF YOUR PUMP