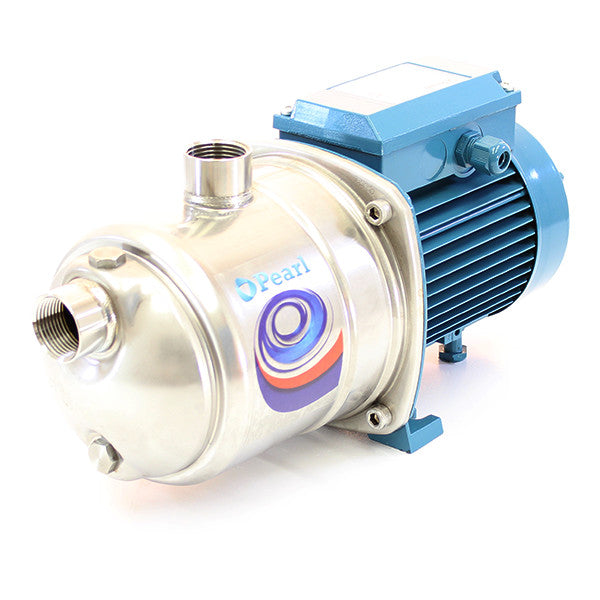 Pearl Deluxe Irrigation Water Pump MSC20 07F16D - Multistage Water Pump. Deluxe Upgrade for reverse Osmosis Applications
MSC  Deluxe Irrigation Water Pump
This new version of the MSC has been designed for water  treatment applications. The components were developed to  resist the extreme working conditions of the systems pumping  liquid with sulfure. The MSC DELUXE has been sized to work  in boosting operation because the components resist pressure  above standard pumps.
An exclusive diffuser design with a flow control device provides for compact construction, fast self-priming capability, and low noise.

Reliable with new design features the MSC DELUXE  is more robust and forgiving when temporary abnormal operating conditions may exist.

Fast air evacuation reduces the risk of air pockets developing at the mechanical seal preventing the danger of seal failure due to a lack of flushing and cooling.

The MSC DELUXE is capable of lifting water from depths of 29 ft in less than 3 minutes, offers new possibilities on suction lift applications, and provides better trouble-free service on normal shallow-well suction lift duties, also with a long suction pipe above the water level.

The new diffuser and flow control device guides the fluid from the impeller into the central part of the pump casing, reducing turbulence and velocity, with effective use of the surrounding liquid in dampening the noise of flow.
APPLICATIONS


For drawing water out of a well.
For lifting water containing air or other gases.
For increasing water pressure from flooded suction applications.
As pressure boosting pump for central water systems with low pressure (follow local specifications if increasing network pressure).
For garden use.
For washing with a jet of water.
CONSTRUCTION

Close-coupled self-priming shallow-well jet pump with built-in ejector.
Connections: threaded ports NPT.
MOTOR

2-pole induction motor, 60 Hz (n ‹ " 3450 rpm).
Three-phase 230/460 V.
Single-phase 115/230 V, 115 V, 230 V.
Capacitor inside the terminal box.
Insulation class F.
Protection IP 44.
MATERIALS

Pump Casing: Cast iron GJL 200 EN 1561
Casing Cover: Cr-Ni steel 1.4301 EN 10088 (AISI 304)
Impeller Brass: P-Cu Zn 40 Pb 2 UNI 5705
Wear Ring Impeller-Diffuser: Cr-Ni steel 1.4301 EN 10088 (AISI 304)
Diffuser: PPO-GF20 (Noryl)
Ejector: PPO-GF20 (Noryl)
Shaft: Chrome Steel 1.4104 EN 10088 (AISI 304)
Mechanical Seal: Carbon - Ceramic - NBR