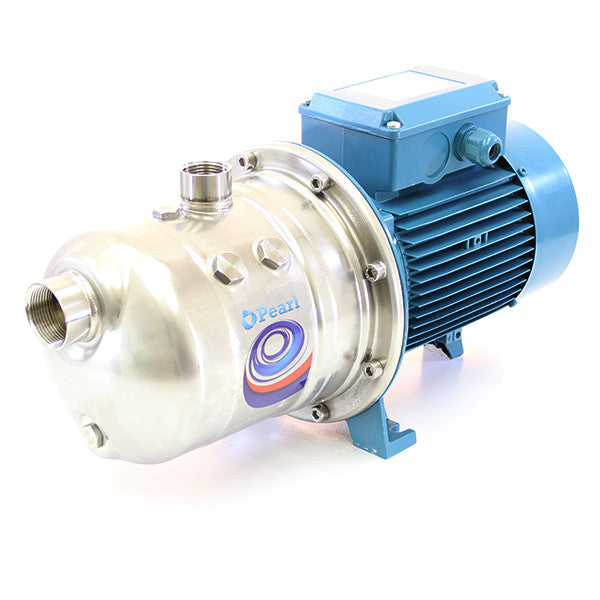 Pearl MXA Series Deluxe Irrigation Water Pump in Stainless Steel. Multistage Jet Water pump - Upgraded for Reverse Osmosis
 Applications
This new version of the MXA has been designed for water  treatment applications. The components were developed to resist  the extreme working conditions of systems pumping RO water  (Reverse Osmosis Systems).
Reliable with new design features, the MXA DELUXE is more  robust and forgiving when temporary abnormal  operating  conditions may exist.
Pearl MXA30 Deluxe Multistage Irrigation Water Pump Features
Extra safety against running dry with the suction port above the pump axis.
Robust single-piece barrel casing.
Compact single-piece lantern bracket and base.
Low noise with the water-filled shroud around the stages.
Water Pump MXA30 Applications
Pumping water out from RO water.
For water supply.
For domestic use, garden use, and irrigation.
Pumping in environments where water with a percentage of  sulfur.
Water Pump Ideal Operating Conmditions
Liquid temperature: 32 F to 95 F.
Ambient temperature up to 104 F.
Maximum permissible pressure in the pump casing:116 psi.
Continuous duty.
Water Pump Construction Details
Horizontal multi-stage, self-priming, close coupled pump.
Single-piece barrel casing in chrome-nickel stainless steel,  with front suction port above pumps axis and radial delivery  at top.
Stages in Noryl.
Connections: threaded ports NPT.
Water Pump Motor Specifications
2-pole induction motor, 60 Hz (n ‹ " 3450 rpm).
Three-phase 230/460 V.
Single-phase 230 V.
Capacitor inside the terminal box.
Insulation class F.
Protection IP 44.
Special Features and additional Components available on requests.  Additional Voltages available.