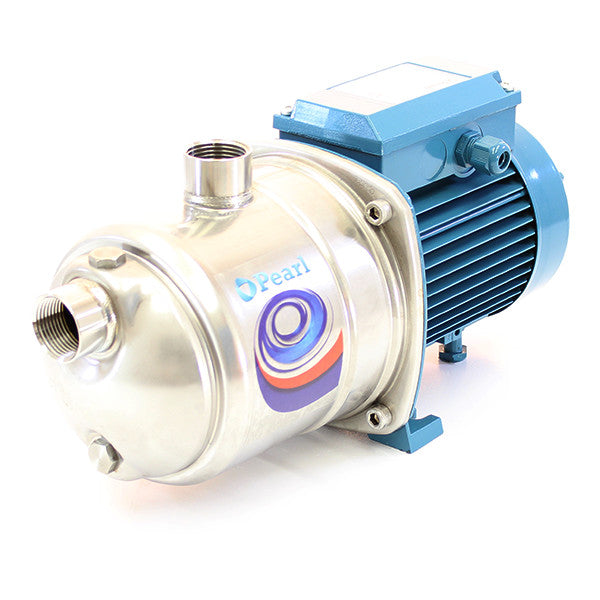 Pearl Multistage Irrigation Water Pump. Stainless Steel - MSC Model
Stainless Steel Multi Stage Water Pump - MSC MODEL
**PLEASE SEE IMAGES FOR PUMP SELECTION**
FEATURES


Extra safety against running dry, with the suction port above pump axis.
Robust single-piece barrel casing.
Compact single-piece lantern bracket and base.
Low noise with the water-filled shroud around the stages.

APPLICATIONS
For water supply.
For domestic use, for garden use and irrigation.

OPERATING CONDITIONS
Liquid temperature: 32 F to 95 F.
Ambient temperature up to 104 F.
Maximum permissible pressure in the pump casing: 116 psi.
Continuous duty.
CONSTRUCTION
Horizontal multi-stage close coupled pump.
Single-piece barrel casing in chrome-nickel stainless steel, with front suction port above pumps axis and radial delivery at top.
Stages in Noryl.
Connections: threaded ports NPT.
MOTOR
2-pole induction motor, 60 Hz (n ‹ " 3450 rpm).
Three-phase 230/460 V.
Single-phase 115/230 V, 115 V, 230 V.
Capacitor inside the terminal box.
Insulation class F.
Protection IP 44.
MATERIALS


Pump Casing: Cr-Ni steel 1.4301 EN 10088 (AISI 304)
Casing Cover: Cr-Ni steel 1.4301 EN 10088 (AISI 304)
Pump Shaft: Chrome Steel 1.4104 EN 10088 (AISI 430)
Plug: Cr-Ni steel 1.4305 EN 10088 (AISI 303)
Stage Casing: PPO-GF20 (Noryl)
Impeller: PPO-GF20 (Noryl)
Mechanical Seal: Carbon - Ceramic - NBR