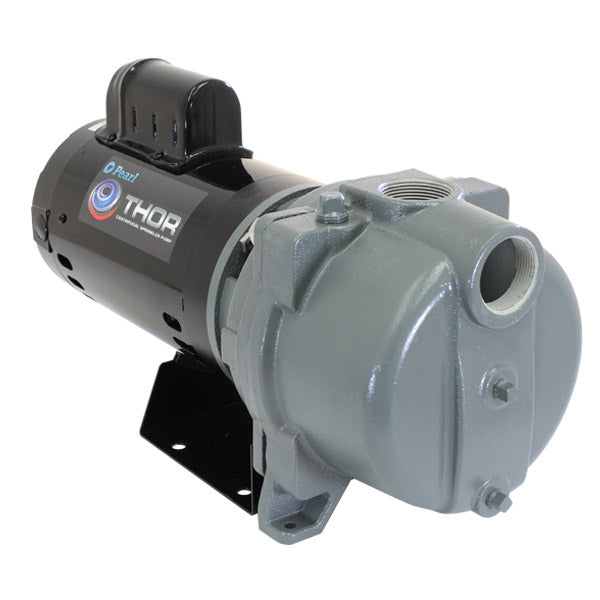 Pearl Centrifugal Irrigation / Sprinkler Water Pump 1HP - Model THOR
Pearl THOR is a self-priming centrifugal irrigation pump. The pump was designed taking into consideration all the features needed to guarantee complete customer satisfaction.
All components were designed to assure the best performance and reliability.
THOR construction is suitable for outdoor applications. THOR is used in irrigation systems where high flow is important at pressures necessary for efficient irrigation. THOR also has applications in Air Conditioning, Water Recirculation, Residential Water Supply, Pressure Booster, and many other applications.
Its construction makes THOR suitable for indoor and outdoor installations.
**PLEASE SEE IMAGES FOR SELECTION**
Applications
Lifting water containing air or other gases
Water recirculation
Irrigation systems
Lifting capability up to 25 ft.
Operating Conditions
Liquid temperature: 32 F - 150 F
Maximum working pressure: 125 PSI
Continuous duty
Construction
Closed coupled self-priming centrifugal pump
High-quality components for domestic water supply and irrigation in respect to low lead requirements
Connections threaded ports NPT
All hardware is Stainless Steel
Pre-drilled priming port with plug
Pre-drilled drain port with plug for maintenance
U shape base on all models gives complete full support to the pump Motor
NEMA Standard ODP 56J motors for much cooler surface temperature
Thermal overload protection
Permanent Split Capacitor (PSC) without the centrifugal switch for the 1 - 1 ½ - 2 HP versions
The front bearing 6204 for a much longer life span
All copper winding
Class F Dupont Nomex Insulation System, cCSAus approved
Single-phase, 115/230V for 1 - 1 ½ HP models
Single-phase, 230 V for 2 HP models
Easy voltage conversion for 1 - 1 ½ HP models
Maximum ambient temperature: 40 C (104 F)
Construction Materials
PUMP CASING Cast Iron
IMPELLER PPE + PS, including SS304 inserts
DIFFUSER PP, Volute with ss304 wear ring
SHAFT SS304 + 40Cr(Friction Welded Shaft,
304ss Shaft Extension)
MECHANICAL SEAL SIC/SUS316/EPDM,
Silicon Carbide vs. Graphite faces