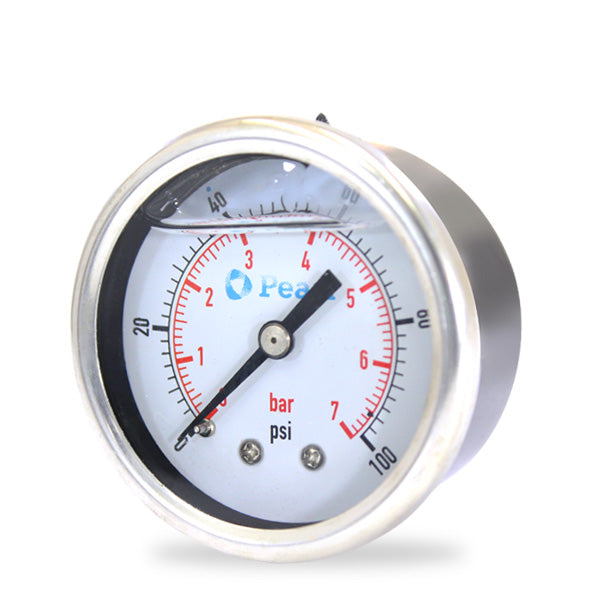 Pearl Pressure Gauge liquid Filled, Stainless Steel or Metal Casing, Back Mount
Pressure Gauge Liquid Filled - Pump Accessories
High quality pressure gauges built with the best materials and assembled following the most accurate procedures to guarantee the best measurement device. 
The liquid filled pressure gauges series has made developed for high precision installations where the accuracy of the pressure reading is key factor for the person who operates the system. 
The internal components made in bronze for better resistance and precision, are enclosed in a stainless steel casing and a stainless Steel ring seal the glycerin that gives the best precision to the pressure readings.
FEATURES:

Metal casing 
Glycerin filled
Available in 2" and 2½" dial
Stainless steel ring
¼" male brass back connection
High resistance polycarbonate lens 
Available in pressure ranges 0-100 psi; 0-160 psi; 0-200 psi and 0-300 psi
To be used with air or water
TECHNICAL INFORMATION
| | | | | | | |
| --- | --- | --- | --- | --- | --- | --- |
| MODEL | CONNECTION | CASING | DIAMETER | PRESSURE RANGE | BOX QTY. | WEIGHT [LB] |
| PG100B20L4M | ¼" BACKMOUNT | METAL | 2" | 0 - 100 PSI | 50.0 | 0.34 |
| PG160B25L4S | ¼" BACKMOUNT | STAINLESS STEEL | 2½" | 0 - 160 PSI | 50.0 | 0.44 |
| PG200B25L4S | ¼" BACKMOUNT | STAINLESS STEEL | 2½" | 0 - 200 PSI | 50.0 | 0.44 |
| PG300B25L4S | ¼" BACKMOUNT | STAINLESS STEEL | 2½" | 0 - 300 PSI | 50.0 | 0.44 |