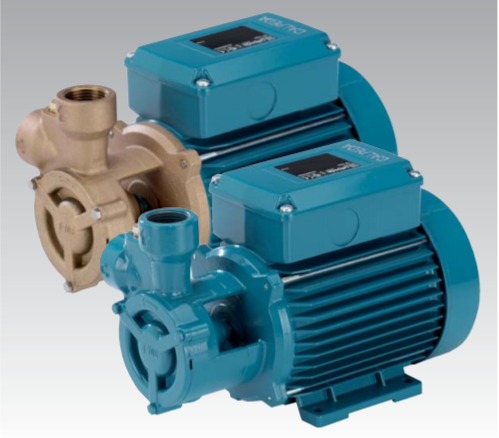 Calpeda TP Series - Turbine Pump with Peripheral Impeller
Features:
CALPEDA TP SERIES - TURBINE PUMPS WITH PERIPHERAL IMPELLER
| | |
| --- | --- |
| SKU USA | CALPEDA MODEL |
| TP80 07A16S | TPM 80-60 115V |
| TP80 07C16S | TPM 80-60 230V |
| TP80 07H36S | TP 89-60 230/460V |
| TPM 78-60 |  TPM 78-60 230V |
*PLEASE SEE IMAGES FOR SELECTION*
Close-coupled peripheral pumps (regenerative pumps) with turbine impeller.  Compact, patented construction with single-piecemotor casing and pump-side wall.Protected against water entering the motor from outside.
Connections:
threaded ports NPT.
APPLICATIONS
For clean liquids without abrasives, without suspended  solids, non-explosive, non-aggressive for the pump materials.
For increasing network pressure (follow local specifications).
For the reduced dimensions, these pumps are very well suitable  to be mounted in cooling and air-conditioning machines  and equipments, circulation, boiler feed.
OPERATING CONDITIONS
Liquid temperature from 14 F to 194 F.
Ambient temperature up to 104 C.
Total suction lift up to 23 ft.
Continuous duty.
MOTOR
2-pole induction motor, 60 Hz (n ‹ " 3450 rpm).
Three-phase 230/460 V.
Single-phase 115 V, 230 V, with thermal protector.
Capacitor inside the terminal box.
Insulation class F.
Protection IP 44.
SPECIAL FEATURES ON REQUEST
Other voltages.
Special mechanical seal
Higher or lower liquid or ambient temperatures.
MATERIALS
Pump casing: Cast iron GJL 200 EN 1561
Lantern bracket: Cast iron GJL 200 EN 1561
Casin cover: Brass CW510L (lead free public LAW 111-380)
Cast iron GJL 200 EN 1561 for T76, TP 80
Impeller: Brass CW510L (lead free public LAW 111-380)
Shaft: Chrome-nickel steel AISI 303 for T 76, Tp 80
Chrome steel AISI 430 for CT, T61-65-70
Mechanical seal: Carbon - Ceramic - NBR
FOR ADDITIONAL INFORMATION CONTACT US TO:        sales@pumpstoponline.com