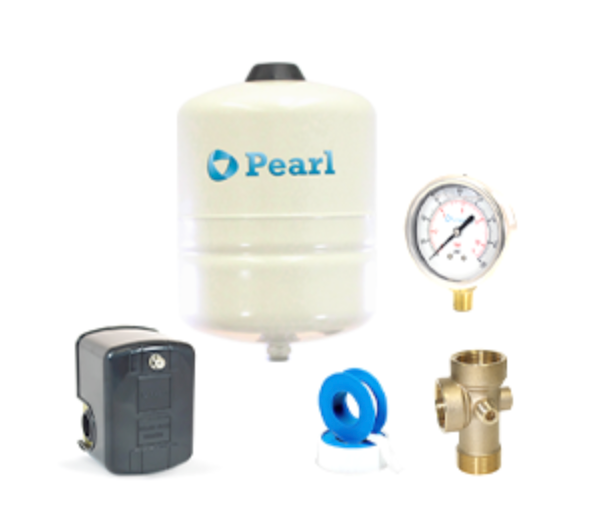 TanKombo - Pump Accessories
TanKombo is a Pearl's Installation Kit for Pressure Systems.

It includes: 


1 Pressure Tank
1 Pressure Switch with 1 Fitting
1 Pressure Gauge with 1 Nipple
1 5 Way Brass Fitting with 1 Bushing
1 Teflon Tape

MNP TANK:
The MNP Steel Series In Line Tanks are made of virgin polypropylene liner combined with FDA approved high grade chlorobutyl diaphragm. This is held against the wall of the tank with a steel clench ring. The brass air valve, sealed by a threaded o ring valve cap, prevent air leaks. 
On the exterior, the almond colored two part polyurethane paint finish over an epoxy undercoating provides hundreds of hours of UV and salt spray protection. 
PRESSURE GAUGE LIQUID FILLED
The liquid filled pressure gauges series has made developed for high precision installations where the accuracy of the pressure reading is key factor for the person who operates the system. 
The internal components made in bronze for better resistance and precision, are enclosed in a stainless steel casing and a stainless Steel ring seal the glycerin that gives the best precision to the pressure readings.
PEARL PRESSURE SWITCH
Designed for the control of electrically driven water pumps. Diaphragm actuated. The ARPS come with adjustable differential
5 WAY BRASS FITTING
It allows the compact installation of the water pump, pressure switch, pressure gauge to the tank.