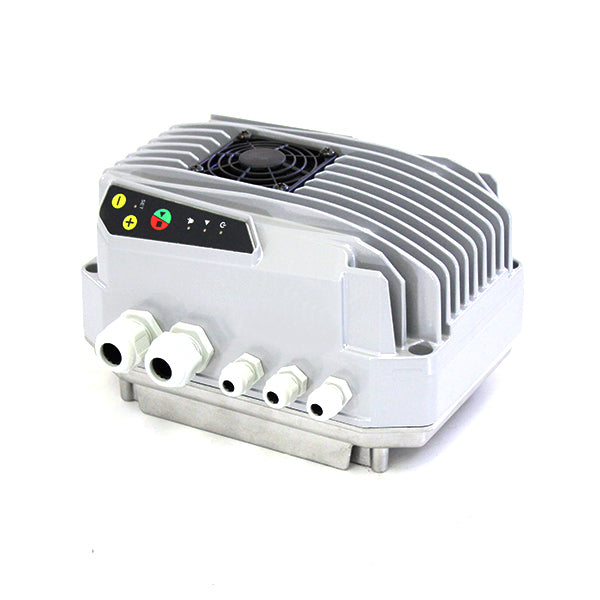 Variable Frequency Drive Nastec - Mida Models 1 Phase Power Supply
Mida Air Cooled Variable Frequency Drive - Pump Controllers
Next generation of motor on-board inverter!
Ideal for water booster sets, HVAC systems with circulating pumps and control of submersible pumps. It ensures:
Energy saving due to variable speed control.
Soft start and soft stop.
Extended system life and reliability.
Installation on humid and dusty environments made possible by IP55 (NEMA 4) protection degree.
Simplified installation on motor or wall.
Easy and fast commissioning thanks to initial configuration wizard.
High thermal and mechanical performance thanks to aluminum case and independent ventilation.
AIR COOLED VARIABLE FREQUENCY DRIVE EXTENDED SYSTEMS LIFE AND RELIABILITY.
The average speed of a pump driven by MIDA is inevitably lower than a comparable fixed speed pump. This reduces component wear such as bearings, bushings, seals, etc.  MIDA also starts and stops the pump gently, reducing the mechanical stress on the shaft and impellers and avoiding water hammer. Hardware and software protections provided by MIDA prevent any damage to the pump and the system.  At lower speeds, the system will also generate less noise.
AIR COOLED VARIABLE FREQUENCY DRIVE 
SMART BLUETOOTH® TECHNOLOGY COMMUNICATION TO YOUR WATER SYSTEM WITH NASTEC NOW APP!
Thanks to Nastec NOW app it is possible to communicate with all Nastec SMART Bluetooth® devices in order to:
Remotely control a Nastec device via Wi-Fi or GSM by tethering to a nearby smartphone.Get energy consumption statistics and check the alarm log.
Develop programs, save them in the archive, copy them to other devices and share them among multiple users.
Create reports with the possibility of adding notes and images, and email or store them in the digital archive.
Monitor multiple operating parameters simultaneously on the wide, high definition, coloured screen of your smartphone or tablet.
AIR COOLED VARIABLE FREQUENCY DRIVE TECHNICAL DATA
MODEL

MAX. AMP

POWER SUPPLY

MOTOR

WEIGHT [Lbs]

VOLT

PHASE

VOLT

PHASE

M203MT-03C-MWS

3

230

1

230

3

10

M205MT-05C-MWS

5

230

1

230

3

10

M207MT-07C-MWS

7

230

1

230

3

10