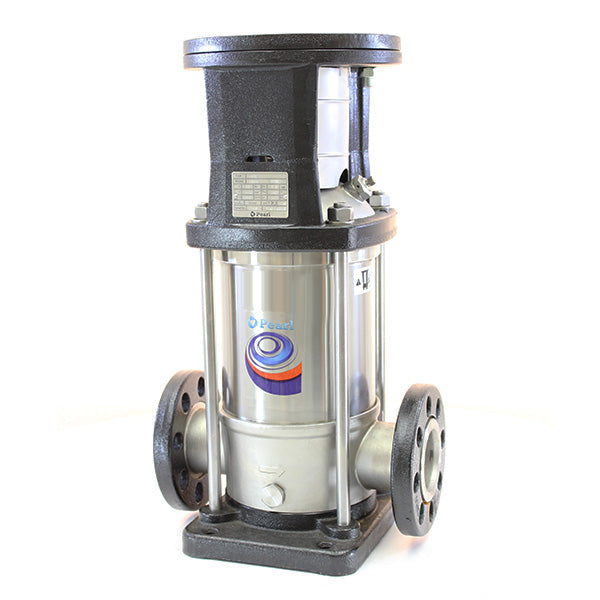 Vertical Multistage Pump End For NEMA Motor - VPS Model
PEARL - PUMP END ONLY
VPS - Pump End only - Pumps
The VPS Pump End is designed to be assembled to motors with NEMA or IEC Bracket.
The stages are made of stainless steel impellers, chambers and pressure casing. Pump stub shaft and motor shaft are directly close coupled. All pump are equipped with a cartridge type mechanical seal for easy maintenance.
VPC and VPS series have different pump sizes and various numbers of stages to provide the flow and the pressure required.
APPLICATIONS
Water Supply and Pressure Boosting:
-  Pressure boosting in buildings, hotels, residential applications
-  Pressure booster stations, supply of water networks
-  Pressure boosting for industrial water supply
Light industry:
-  Washing and cleaning systems
-  Car washing facilities
-  Fire fighting systems
-  Process water systems
-  Machine tools (cooling lubricants)
Heating, Ventilation and Air-Conditioning:
-  Boilers
-  Induction heating
-  Heat exchangers
-  Refrigerators
-  Cooling towers and systems
-  Temperature control systems
Irrigation and Agriculture:
-  Greenhouses  
-  Sprinkler irrigation
Water Treatment:
- Water softeners and de-mineralization
-  Reverse Osmosis systems
-  Distillation systems
-  Filtration  
-  Ultra-filtration systems

MECHANICAL SEAL
Standard cartridge mechanical seal made of silicon carbide/silicon carbide/EPDM or Viton. Depending on the type of application, Alternative materials are available for the seal and the elastomers. The cartridge type mechanical seal can be replaced in minutes without special tools and without disassembling the pump.